UAE Visa Starting @ Rs. 4799/- *
Why should you choose us for UAE visa?
Dubai visa starting from Rs 4,799*
Get your Dubai visa in just 5 working days
We provide OK to Board service
Apply for online visa from the comfort of your home
Pickup and drop of documents from your doorstep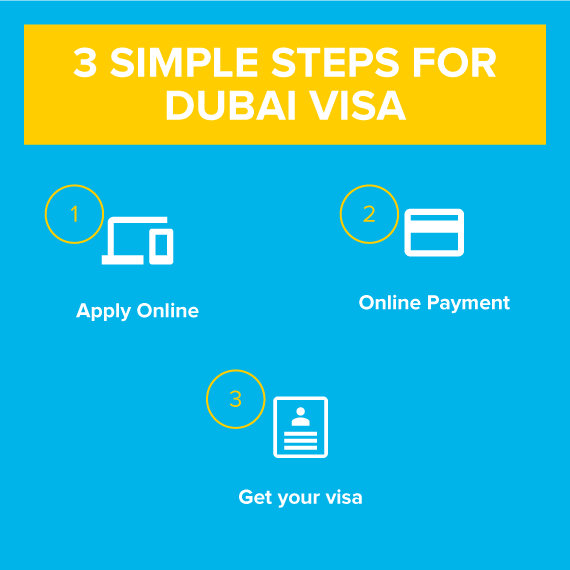 Documents for Dubai Visa application
Visitors need these following documents for UAE Tourist Visa.
Confirmed return air ticket with tour itinerary
Scanned copy of each visitor's first and last page of the passport
passport size photographs of each visitor taken against a white background with a matte finish
Visa FAQ's
UAE sample visa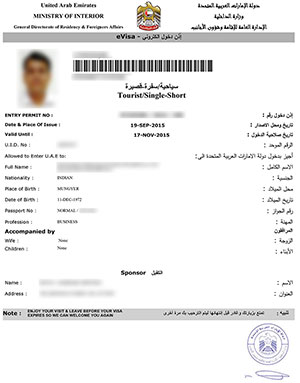 The traveller requires to submit the below listed documents to apply for a 90-day Dubai visa:
Confirmed Dubai flight ticket
Passport copies of friends/relatives residing in Dubai
Residential proof of friends/relatives residing in Dubai
Invitation letter issued by friends/relatives residing in Dubai
Alternate local contact details of 2 friends/relatives residing in Dubai
Apart from the above documents, immigration may ask for additional documents as deemed necessary
You can apply for Dubai visa anywhere between 58 to 5 working days prior to your travel date.
Yes, there is. Females below 30 years of age and males below 22 years of age need to apply for a Dubai visa along with their father, mother or husband to avoid any chances of rejection.
All the visitors should have a passport that is valid for a minimum of 6 months from the date of arrival in Dubai. In case your passport is valid for less than 6 months, you will have to renew it before applying for Dubai visa.
Your Dubai visa will be sent to the email address given by you at the start of the application process.
Unfortunately Dubai authorities do not give reasons for rejecting a visa application. Therefore, we cannot provide specific reasons as to why your application was unsuccessful.